Fuels America released a poll today that gauged consumer opinions of E15, a 15% ethanol, 85% gasoline fuel blend currently sold in nine states in the U.S. The poll comes on the heels of E15's re-entrance into the American fuel market earlier this week. E15 was approved for use in vehicles 2001 or later nearly 14 months ago and today 40 stations are selling E15 at the pump, on average between 10-20 cents less per gallon than regular gasoline.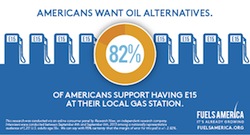 The poll of 1,211 U.S. adults, revealed that a strong majority of Americans (82 percent) support having E15 available at their local gas stations; and more than three-quarters (76 percent) want access to even higher ethanol fuel blends, such as E20 or E30 (20 or 30 percent ethanol).
"The overwhelming majority of Americans understand that having options when you fill up at the gas station is a good thing," said Tom Buis, CEO of Growth Energy. "They have spoken loud and clear that they want access to clean, homegrown renewable fuel. What we clearly see from this poll is that consumers like higher blends of ethanol in their gas because it saves them money. Ethanol is currently trading 80 cents lower than regular unleaded gasoline and the bottom line is that ethanol provides consumers a choice and savings at the pump.
"Most drivers fill up with E10 now, but they want higher blends like E15. Currently, consumers do not have access to higher blends because oil companies have failed to modernize their infrastructure and refuse to allow these cheaper fuels to compete with their own product," added Buis.
The Fuels America poll found that nearly four in five (79 percent) believe that the oil industry's efforts to block the availability of E15 is bad for consumers.
Listen to the E15 Consumer Poll press call here: E15 Consumer Poll
In addition to releasing the new poll data, during a media teleconference, several ethanol advocates debunked a number of myths that oil industry lobbyists continue to perpetuate about E15.
Renewable Fuels Association (RFA) spokesperson Robert White discussed a recent Petroleum Equipment Institute (PEI) report on the low cost of retrofitting a gas station to sell E15. The American Petroleum Institute (API) is currently running a smear campaign against the fuel in order to protect their profits and has told the public that it would be too expensive to retrofit gas stations for E15. This is not the case, according to a recent report coming from the non-partisan experts at PEI.
"The fact of the matter is that it is inexpensive to retrofit most gas stations to sell E15. Depending on the equipment already at the station, it could be as little as $1,200, or less than the increased profits a retailer could see in just one month. If more significant retrofits are needed, it could still cost as little as $4,200 to upgrade a dispenser. This is a far cry from the laughable $200,000-$300,000 per station figure that API has been trotting around," said Robert White of the Renewable Fuels Association. "What E15's opponents is saying is beyond absurd."
Scott Zaremba, an E15 retailer who owns several transportation energy retail locations (he said they are not a gas station) in the Midwest, shared his experiences talking to customers he hears from customers. "My customers love E15. And that's no surprise because I have had customers tell me their mileage has increased with when using E-15, and it's another choice for drivers and people like to have choices. It's also great for my small business. It gives us an edge over our corporate competitor's with our offering of an alternative."
In addition, auto-mechanic and radio personality Bobby Likis, addressed the safety of E15 for engines. "E15 is the most tested fuel in history and is absolutely safe for every car model year 2001 or after. The campaign the oil industry is running to make consumers think otherwise has no scientific foundation. In fact, E15 is cleaner burning than traditional gasoline which can improve performance—one of the many reasons NASCAR uses it exclusively."