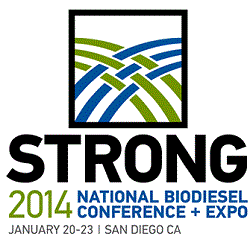 The next-generation of scientists to advance biodiesel will get to network and look beyond the classrooms for educational opportunities. Thanks to donations from state soybean organizations and the United Soybean Board (USB), the National Biodiesel Board announced some selected students, such as Dan Browne from Texas A&M University, will get to attend the NBB's Conference & Expo this January.
Browne has done just that by attending the National Biodiesel Conference & Expo twice on scholarship. He describes the conference as "a nexus of science, business, and policy where student scientists not only gain access to world-class biodiesel science and engineering, they get to observe the interplay between the key sectors that constitute the industry."
Students studying a wide array of disciplines have a unique opportunity to grow their passion for biodiesel at the 2014 National Biodiesel Conference & Expo, January 20-23 in San Diego.
"Attending the conference has provided an unparalleled opportunity to absorb knowledge from industry leaders," said Browne who is pursuing a Ph.D. in biochemistry [and who co-chairs the Next Generation Scientists for Biodiesel, an NBB program that aims to educate and collaborate with young scientists.]. "This unique experience helped me to better understand the role of science within the greater framework, while giving me direct connections to the scientists at the cutting edge."
The biodiesel industry views student participation as key to the future of the industry.
"Many students are already working on exciting biodiesel research that could have a lasting impact on the industry," said Don Scott, NBB's director of sustainability. "We believe student participation in our conference is an important investment with the potential for tremendous return in the form of information sharing and relationship building. Each year students bring something new to the table and we're excited to see what's in store for 2014."
More information on the NGSB scholarship program is available at www.biodieselsustainability.com.