NRG Energy and Siemens Energy recently dedicated the country's second Flex-Plant, the El Segundo Energy Center located near Los Angeles, California. The first Flex-Plant is located in Lodi and went into commercial operation last year. Siemens Energy supplied and commissioned the two Flex-Plant 10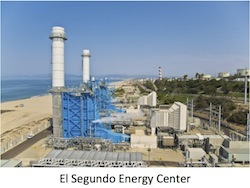 combined cycle power islands. In total they have an installed capacity of 550 megawatts (MW) – enough to supply efficient and flexible electricity to approximately 450,000 Californian homes.
El Segundo Energy Center is considered an environmentally conscious, combined cycle solution for peaking and intermediate load. The two units can achieve 300 MW in less than 10 minutes, allowing the plant to back up the electrical grid, including grids that are connected to wind and solar power. The Flex-Plant is a solution for supplementing energy should renewable power generation suddenly fall short.
During the dedication ceremony, Martin Tartibi, executive vice president at Siemens Energy Solutions Americas, noted, "NRG and the state of California today moved one step closer to realizing a greener future in California. Siemens Flex-Plant 10 technology is on the leading edge of where power generation in America is going in the future – fast, flexible and environmentally friendly."
With the SGT6-5000F gas turbine integrated with a single-pressure, non-reheat bottoming cycle, and an air-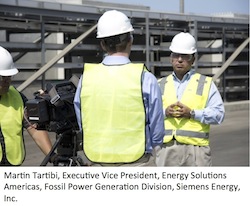 cooled heat exchanger for steam condensing, this Flex-Plant 10 provides a net efficiency of nearly 49 percent – much higher in efficiency than conventional simple cycle solutions. As compared to conventional combined cycle technology, this Flex Plant is more environmentally friendly with a reduction of 95 percent of CO2 start up emissions and low water consumption.
This plant also demonstrates the Siemens Clean-Ramp Technology, which reduces transient emissions, while the gas turbines ramp up and down to meet electricity demands.
"Flex-Plants with fast start technology are an environmentally friendly solution to seamlessly integrating renewable power into the grid. As a result of this project, the El Segundo Energy Center will be able to provide Californians with 550 MW of clean energy for decades to come," added John Chillemi, President of NRG Energy's West Region. "With Siemens as our partner, we were able to meet the challenges of permitting, constructing and operating in a highly populous and visible beach community in the South Bay Southern California area."