Swadeshi Civil Infrastructure has completed the installation of a 930-kilowatt (kW) SunPower solar system on the rooftop of the Indira Paryavaran Bhavan building in New Delhi, India. The solar panels were selected in part due to the relatively little amount of rooftop space for the solar panels.
The building is India's first net zero building. Its design emphasizes conservation featuring trees to reduce adverse environmental impact, adequate natural light and shaded landscaped areas to reduce ambient temperature. The building is targeted to achieve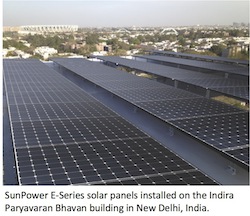 Platinum from the Leadership in Energy and Environmental Design green building rating system, known as LEED INDIA. It also is expected to receive a five star Green Rating for Integrated Habitat Assessment from the rating system developed by the Energy and Resource Institute and supported by the Ministry of New and Renewable Energy, the nodal ministry of Indian government. Managed by the Central Public Works Department of India, the project is being spearheaded by the Indian Ministry of Environment and Forests.
"For this urban project, with very limited rooftop space and high energy generation requirement, the selection of high efficiency solar panels was the most critical aspect," said Ram Avatar, CMD of the New Delhi-based Swadeshi Civil Infrastructure Pvt. Ltd. "Thanks to SunPower solar panels, we can now hope to achieve the stringent goal of net zero energy for this building."
The high-efficiency SunPower E-Series solar panels were installed on the building with a five-degree tilt to fully optimize its expected energy output of 1.5 million kWh annually.
"SunPower's world leading solar panel technology will help the Indira Paryavaran Bhavan project in New Delhi generate enough electricity from its rooftop solar system to cover 100 percent of its energy demand," addded Howard Wenger, SunPower president, regions. "We're proud to be one of the Indian government's sustainability partners as it maximizes clean solar power generation and cost savings at this innovative net zero building."