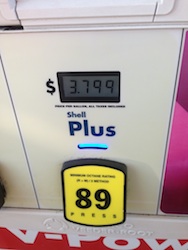 Today marks the 1,000th day in a row that gas prices have been above $3 per gallon. While ethanol provides drivers savings while filling up, AAA says that these gas prices are here to stay.
Bob Dinneen, President and CEO of the Renewable Fuels Association (RFA), noted, "Gas prices are now staying at over $3 and could continue to increase, but ethanol is a viable and sustainable tool that could stop gas prices from rising at the pump. Renewable fuel is plentifully available right here, right now. If Big Oil would stop putting up barriers to offering E15 and other higher level blends, gas could be cheaper. In fact, the estimated discount of E15 is 10-15 cents cheaper per gallon than gasoline. Add that up and it shows real savings."
Dinneen continued, "If consumers had a renewable alternative at the pump, their gas prices could decrease and they would not be forced to change their driving habits and lifestyle. Vehicles are used every day to take kids to soccer practice, get to work, and go out to eat. Renewable fuels offer an alternative that can keep prices down and keep families on the go."
Research shows that In 2011, ethanol saved drivers $1.09/gallon and families roughly $1,200 in gasoline purchases. E10 (10% ethanol, 90% gasoline) is blended in over 97% of the gasoline today, and just last Sunday E15 (15% ethanol, 85% gasoline) came back online for vehicles 2001 and newer. Right now E85 (85% ethanol, 15% gasoline) is available to flex fuel vehicles and according to E85prices.com the average E85 price in Iowa is $2.73/gallon compared to the $3.65/gallon average gas price today. In fact, E85 has been reported as low as $2.39/gallon in St. Ansgar, Iowa.