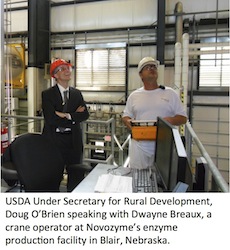 During the Advanced Biofuels Conference that took place last week in Omaha, Nebraska, Novozymes hosted USDA Under Secretary for Rural Development, Doug O'Brien. Following his keynote address, O'Brien headed to Blair, Nebraska, the home of Novozyme's enzyme manufacturing facility.
Also on the tour of the Novozymes facility were several members of Novozymes plant management, Jim Realph, Mayor of Blair, Neb., and Maxine Moul, USDA Rural Development Director for Nebraska.
Novozymes operates two enzyme manufacturing plants, one of which opened in Blair in May of 2012. This plant produces enzymes for both first generation biofuel production, such as corn-based ethanol, as well as advanced biofuels such as cellulosic fuels produced from corn stover and cobs, switchgrass and more. Novozymes has dozens of strategic partnerships with biofuel companies around the world to help develop efficient and cost-competitive biofuels from a wide-range of feedstocks. The Blair production facility employs 100 people.