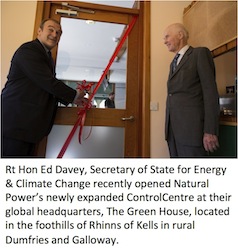 Rt Hon Ed Davey, Secretary of State for Energy & Climate Change, recently opened Natural Power's newly expanded ControlCentre at their global headquarters, The Green House, located in the foothills of Rhinns of Kells in rural Dumfries and Galloway.
The company's NP/ControlCentre (previously known as WindCentre) is a 24/7/365 operational control room, providing site management services round the clock for a range of renewable sectors including onshore and offshore wind, biomass and solar PV projects. Manned by experienced engineers, the 24 hour control room service is facilitated by a software solution for health & safety management, work order recording and access control – all in line with industry best practice, such as the RenewableUK Wind Turbine Safety Rules.
Energy Secretary Ed Davey said during the event, "It's great to see first-hand the work carried out at Natural Power's ControlCentre. This shows the vital role renewables play in our energy mix and their contribution to our energy security. The Centre has already helped over 100 clients improve the efficiency of their wind turbines, increasing the amount of renewable electricity provided to the grid.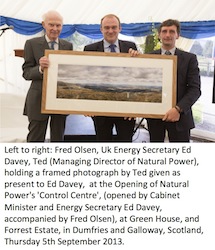 The company's Asset Management team currently manages 139 wind farms globally, including 14 sites in Ireland, representing 1,360 turbines. The company is also breaking into the U.S. market and is already providing services to a number of operational wind farms. This represents operational management of 37 percent and 20 percent of the UK's and Irish installed onshore capacity respectively.
Commenting on the company's acheivements, Natural Power's Director of Asset Management, Andy Howie, said: "It is a great achievement to be in a position to double the size of NP /ControlCentre, and to know it has become the heart of one third of all operational sites in the UK.  As the sector continues to grow our focus remains on achieving the highest safety standards on site for all. We are extremely proud, at Natural Power, to be chosen as the No. 1 provider of Asset Management services in the UK."
Davey also noted that is he "delighted" that Natural Power has chosen to expand the Centre's services to solar and bioenergy sectors in the UK. "The UK has some of the best renewables in Europe," said Davey, "and if we are to meet our carbon reduction and renewable targets, it is vital that we make the most of this potential."
"I wish Natural Power every success with their endeavours," added Davey.