Today marks the official return date of E15, a 15 percent ethanol, 85 percent gasoline fuel blend. The ethanol blend is approved by the Environmental Protection Agency (EPA) and can be used in cars 2001 or newer.
"We're excited to see E15 back in Iowa. E15 provides many Iowans another low cost option compared to gasoline," said IRFA Executive Director Monte Shaw. "Based on conversations with retailers, consumers choosing E15 this morning have saved at least 20 cents per gallon compared to regular unleaded with no ethanol."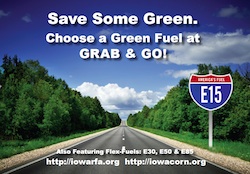 Iowa's E15 retailers reported earlier this year that consumers had absolutely zero issues with registered E15 fueling, labeling, and engine performance when it was previously available from September 15, 2012 through May 31, 2013. Iowa's E15 retailers also reported that E15 was sold at an average of nearly a 22-cent discount to regular (no ethanol) gasoline, and at nearly an 11-cent discount to E10, the most commonly used fuel in the nation.
"I know Marion-area motorists are happy to once again have low-cost E15 as an option," said Linn Coop Oil Company Service Manager Jim Becthold. "When stations like Linn Coop are able to provide true fuel choice by not only offering E10, but also E15 and E85, the consumer wins."
The IRFA also recently launched a new promotion campaign to promote E15 statewide and to highlight the availability of E15 at specific fueling locations in Iowa. The campaign features statewide radio ads and postcard mailings encouraging Iowa motorists to try the low-cost, environmentally-friendly fuel.
While several stations are in the process of registering, today E15 is available for all 2001 and newer vehicles at these eight Iowa locations:
Linn Coop Oil: 325 35th St. in Marion, Iowa
Fredericksburg Coop: 300 W. Main St. in Fredericksburg, Iowa
Kountry Korner: 312 E. Buchanan St. in Baxter, Iowa
Fast Stop: 22268 Highway 9 West in Cresco, Iowa
Popke's Inc: Intersection of Highway 9 and Highway 75 in Rock Rapids, Iowa
Sperry One Stop: 516 Highway 141 in Coon Rapids, Iowa
Grab & Go: 401 South 4th St. in Mapleton, Iowa
Farmers Cooperative: 304 North Osage St. in Creston, Iowa