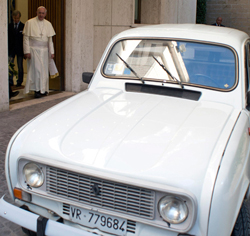 According to a story in an Italian Catholic publication, the Pope's new/old car is able to run on biofuels.

The National Catholic Reporter reports that Italy's Famiglia Cristiana interviewed the priest who gave Pope Francis the 1984 Renault 4L as his personal vehicle.
"Knowing Francis' environmental activism, (Fr. Renzo) Zocca proudly told Famiglia Cristiana that the Renault can run on biofuel," NCR reports. Pope Francis had the same type of vehicle in his native Argentina.
The 69-year-old priest presented the Pope with the car last Saturday.