Portugal's biggest supplier of biodiesel equipment will soon be outfitting a new biodiesel refinery in North Africa. Incbio signed a deal with Biokast Energy S.A, to supply a soon-to-be-built 8,000MT per year biodiesel plant in Tunis, Tunisia.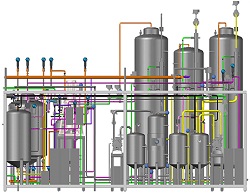 [The new facility will use] Incbio's ultrasonic reactors to produce EN14214 Biodiesel from Used Cooking Oil (UCO), collected from restaurants in Tunis. This will be one of the most advanced and efficient transesterification plants in the world, employing [the] three most important design parameters which form the base for Incbio's technology: small footprint, low cost and high efficiency, which is both innovative and widely proven in Biodiesel production plants globally.
José Marques, Incbio's CEO, said: "After a long time spent in the project planning stage to ensure the client gets the business model right, we have signed the agreement and construction has commenced, which will see Biokast becoming one of the few biodiesel producers in Tunisia. Securing a regular supply of Used Cooking Oil and ensuring the plant is able to process it into high quality biodiesel is the key for Biokast's success, and now that this has been secured we are very happy to have been selected as the technology providers. By using our ultrasonic based multi-feedstock technology, industrial units are able to convert a wide range of raw materials into high quality Biodiesel, exceeding the strict standards of EN14214 and ASTM D6751."
Mohamed Ali Karoui, Biokast Energy S.A's CEO, said: "We are delighted to have partnered with Incbio, having scoured the market for available options their proposition made the most sense both financially and technically. We really liked the quality of their plants and their extensive knowledge of this industry. Our experience in the biodiesel market is not very extensive, as such Incbio's support when we reach the operational stage is going to be very important to ensure our success."
Incbio and Biokast Energy S.A expect to finish the plant in early 2014.