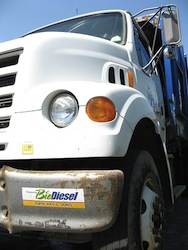 A recent article on TruckingInfo.com looked at several options truckers have when considering alternative fuels. While there are advantages and disadvantages for natural gas, hybrid, electric and even hydrogen fuel cells-powered medium and heavy duty trucks, the article indicates clean diesel (and what's a cleaner diesel than biodiesel) might be the best choice for fleets:
Alternative fuels are not for everyone. In fact, the best "green" option for some fleets may be today's "clean diesel" technology.
Ken Gillies, manager of truck ordering and engineering for GE Capital Fleet Services, says he's seen fleets ready to jump into alternative fuels with both feet without doing their homework or giving thought to their overall "green" strategy as a whole.
"There's so much talk about alternative fuels, it has turned almost into the total focal point – and there's so many other things that should be done that can help without adding that kind of cost and infrastructure," he says.
Of course, the best part about biodiesel is, you don't have to change out engine parts or delivery infrastructure to make it work… right now! Plus, there seems to be more flexibility in the amount you can blend and run the same as its petroleum counterpart.