The National Biodiesel Board (NBB) is celebrating its 20th anniversary this year and the fifth anniversary of its eco-friendly, green headquarters building in Jefferson City, Mo.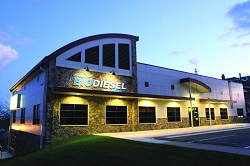 NBB CEO Joe Jobe says when they started in 1993, some of the first research was done in central Missouri at the University of Missouri, funded by the Missouri Soybean Council. They expected to get NBB up and running and off to Washington, D.C., but after 15 years and making biodiesel a commercial success, they decided to stay in Jefferson City and renovated three old buildings in 2008 for their new headquarters.
"We used as many environmentally friendly materials and systems that we could," said Jobe, including non-toxic paints, low-volatile materials, recycled carpet backings, and even solar-powered parking lot lights. "After all, we represent a green, renewable industry, and we want to live that way."
In the last 20 years, Jobe says they've learned that all renewable energy producers, whether conventional or advanced like biodiesel, must stick together against Big Oil's constant attacks, a message he drove home when talking to his colleagues at this week's Advanced Biofuels Conference in Omaha, Neb.
"The petroleum industry has made it very clear that their number one priority is to repeal the RFS (Renewable Fuels Standard)," which Jobe says is working, despite just being fully implemented in 2011. "Two years is not enough to claim, as the petroleum industry has, that the program is broken," he said. "The program is working as Congress intended it to work."
Jobe also points to how biodiesel is meeting benchmarks NBB set back in 2005 to have five percent of all on-road diesel be biomass-based by 2015. They met that 10-year vision just this past July, and they want to double that in the next 10 years. "It's an aggressive goal, but it's one that we have a lot of confidence that this industry has a very, very bright future."
NBB now represents both biodiesel and renewable diesel – two green fuels that come from biomass-based products but are made using different processes. Biodiesel feedstocks, fats or oils, react with methanol to make biodiesel and glycerin, where renewable diesel uses that same feedstock but a distillation process similar to petroleum. Each has its own advantages, but both are much greener, domestic and renewable, than petroleum.Interview with NBB CEO Joe Jobe