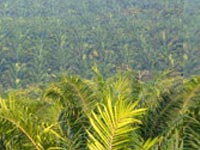 One of Cargill's palm oil plantations in Indonesia used for providing a feedstock for biodiesel is certified as a sustainable operation. The company announced the PT Harapan Sawit Lestari (HSL) plantation was awarded the certification under the International Sustainability and Carbon Certification (ISCC) standards in the European Union (EU).
ISCC is a certification scheme that promotes responsible farming by allowing sustainable products to be differentiated from non-sustainable ones, including greenhouse gas emissions at different stages of the value chain. It is approved by the EU to cover the EU Renewable Energy Directive (RED), which means that Cargill is able to provide palm oil intended for energy applications to customers who are working towards compliance with the RED.
"We have always believed that responsible and sustainable production of palm oil is the way forward for this industry and we have been working hard to make our operations in Indonesia increasingly sustainable. The ISCC-EU certification covers the entire supply chain at all of HSL's locations which produce about 130,000 metric tons of sustainable palm oil annually," said John Hartmann, Chief Operating Officer, Cargill Tropical Palm Holdings Pte Ltd. "This represents a major milestone in our sustainable palm oil strategy and we are proud to continue our efforts to promote the palm oil sustainability agenda across the relevant sectors related to the palm oil industry."
Cargill goes on to say the certification is part of a larger corporate responsibility initiative that looks to help local farmers adopt sustainable agricultural practices, improve land use, increase the quality and quantity of their crops, and promote safe and efficient working practices.
Another one of Cargill's palm oil plantations in Indonesia, PT Hindoli in South Sumatra, had one of its first smallholders' cooperatives, KUD Mukti Jaya, receive ISCC-EU certification last summer.