The Battery Innovation Center in Newberry, Indiana, adjacent to the US Navy's largest battery testing and research base, is the home of an isola solar power carport developed by renewz sustainable solutions. The solar charging carport system is the first energy lab in the country to feature Silfab solar panel technology.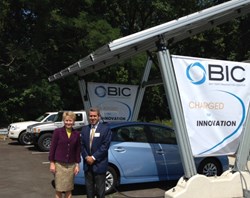 "The completion and deployment took just a matter of days for this first solar power canopy on our new facility grounds," said Charles LaSota, President of the Battery Innovation Center. "renewz' rapid-assembly design, combined with an innovative solar technology and power management package, proved to be fastest and least disruptive to our operations of any others we found on the market, something we believe will be of great importance to future opportunities for our armed force bases in their pursuit of energy independence around the world. The need for robust solar-recharged energy storage operating systems becomes more apparent as the number of electric vehicles in our defense arenas increases."
"Built right at the front steps of the US Navy's largest battery development facility," said Sass M. Peress, CEO of renewz, "this modular two-car solar canopy took just two days to assemble without need for any foundation trenching thanks to its ballasted design. Having now built several solar carports in 2013 of this type, our technology and team have clearly demonstrated how armed forces, educational institutions, governments, power utility and corporate entities around the world can quickly and easily deploy renewable, clean energy supplies for their electrical vehicle charging infrastructure, while powering their electric fleets towards true 'zero-emission' targets."
Paolo Maccario,General Manager and COO of Silfab added that his company understands the importance of batter energy storage for the continued expansion of alternative energy. He also noted that the mission critical operations of the country's armed forces require robust, reliable and innovative solutions.
"This aligns with the business philosophy Silfab prides itself of. High density and "smart" solar PV modules are just some examples of such innovation. I wish to congratulate all the partners in this project for sharing the same relentless pursuit of perfection and technological advancement," concluded Maccario.