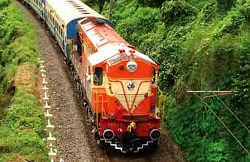 Trains in India could soon start running on biodiesel. The Business Standard reports that Research Design Standard Organisation (RDSO), the research wing of Indian Railways, will conduct field trials of Jatropha-based biodiesel developed by the Central Salt Marine & Chemical Research Institute.
"A few more approvals are required and possibly in next 3-4 months we shall commence the trials on two locomotives in Jetalsar," a Western Railway official said.
"During initial trials it would be 10 per cent bio-diesel and 90 per cent conventional diesel, but as we progress the bio-diesel content will be scaled up," he said.
"Laboratory tests have been conducted to test locomotives on B-100 bio-diesel (neat bio-diesel), but there are some issues with it. Hopefully once resolved, we aim to run the locomotives on hundred per cent bio-diesel," the official said.
The institute is using a U.S.-patented technology to make the biodiesel from Jatropha.