According to some new information from the Petroleum Equipment Institute (PEI), the cost of upgrading an existing retail gas station to sell E15 is much less than recently suggested by ethanol opponents. For the past year, several stations throughout the Midwest have been offering E15 and seen increases in both overall fuel sales and in-store sales.
Yet some retailers who want to offer E15 have been off put by concerns around price being fostered by biofuel opponents. Those detractors have claimed that adding E15 will cost retailers $200,000 to $300,000. However, the ethanol industry has repeatedly stated that such estimates represent an absolute worst-case scenario that would be far from the norm. In fact, the stations that offer E15 today have spent an average of just $10,000 per station to add the product—or slightly less than $0.01 per gallon of gasoline sold for the average retail gas station according to the Renewable Fuels Association (RFA).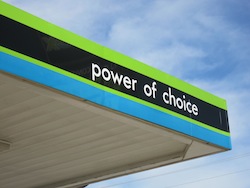 PEI has now further underscored the ethanol industry's point that E15 station conversions can be done affordably. By request from the U.S. Department of Agriculture (USDA), PEI examined the potential cost of installing E15 at retail gas stations under 10 different scenarios. For example, stations that are just required to have compatible equipment can offer E15 with minimal investment. Those that can use existing dispensers—such as the Kansas station that was first in the country to sell E15 last summer—can offer E15 for under $1,200 on average per station. In this case, the investment in converting the station to sell E15 can be recouped in just one month (due to the potential for increased profitability from the sale of E15).
Those that require a listing by a testing laboratory also have inexpensive options. Stations can choose to retrofit their dispensers to offer E15 for under $4,200 per dispenser on average or replace dispensers to offer E15 for under $20,500 per dispenser on average. Even new stations being built could add E15 for under $10,000 per dispenser on average.
How do retailers pay for these upgrades? The good news is the return on investment (ROI) is quick given today's markets. Given ethanol's discount to gasoline and the current value of RINs, retailers offering mid-level ethanol blends like E15 can quickly recoup their investments in infrastructure.
Retailers should also keep in mind that the PEI cost estimates do not include any available incentives that help defray installation costs. Federal, state and local incentives and grant programs are available in most areas, and would further help reduce the cost of equipment and installation. One example, the USDA's REAP Program, has funded hundreds of blender pumps that can offer a range of ethanol blends like E15. Click here to learn more about adding E15 to your current station offerings.