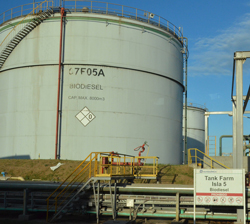 Argentina ranks third behind the United States and Brazil in soybean production, but first in the export of soy products, including biodiesel.
The International Federation of Agricultural Journalists (IFAJ) held its annual Congress in Argentina last week and those who attended learned quite a bit about farming and biofuel production in this South American nation.
Soybeans are the number one crop in Argentina with 50 million tons produced annually and production of biodiesel was 2.8 billion liters last year with exports totaling 1.77 billion. Argentina has been able to become very competitive in the export market for biodiesel and other soybean products since the country's soybean growing regions and crushers are located close to port facilities, they have a highly developed crushing industry and a relatively small domestic market.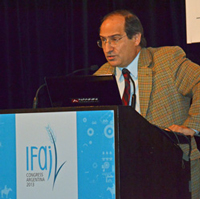 Argentine ethanol production is much smaller, but on the rise. "I would say that Argentina is moving forward with corn-based bioethanol, but we are betting on sugarcane bioethanol," Argentina's Secretary to the Minister of Agriculture Lorenzo Basso said in an address to the IFAJ Congress.

Ethanol production is forecast to grow to 400 million liters this year and 600 million in 2014 with five new refineries using corn instead of sugarcane coming on line. All of the country's ethanol production is for domestic use with a 5% mandate for fuel. Argentina is not big in either corn or sugarcane production, so Basso says they are looking ahead to using biomass for bioethanol production. "Biomass is in everybody's agenda," he said. "Argentina has a great potential to use biomass from forestry, as well as residues and wastes."
Listen to some of the Secretary's comments via an interpreter: Argentine Agriculture Secretary Lorenzo Bosso
2013 IFAJ Congress Photo Album