Rocker Neil Young showed he has a "heart of gold" for ethanol during a press event in Washington D.C. Monday with the National Farmers Union.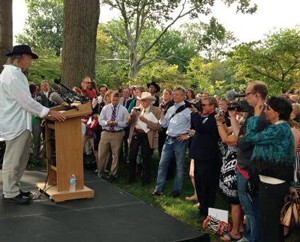 "I love ethanol. I love how it smells, I love the way it makes my car go, everything about it is great, it's clean," said Young. "It's a beautiful fuel."
But, Young told an audience of 300 farmers and numerous media outlets, America does not have freedom of choice when it comes to its fuel. "There's a monopoly in existence," he said. "Every time you get off the road, you enter a monopoly zone – it's called Big Oil. There's no reason why every fuel stop that has more than four fuel pumps cannot have an E85 pump…it gives Americans the freedom to choose the fuel they use."
Young, who recently traveled cross country in a vehicle powered by cellulosic ethanol and electricity, says he is not being paid to support biofuels. "We have a very big problem, CO2 is going to be a huge issue in the next couple of years," he said. "Ethanol and other biofuels, cellulosic ethanol, biodiesel, are the answer to this problem."
The Grammy-winning recording artist believes the misinformation campaign against ethanol is fueled by the oil industry. "And the only thing that's green about their product is the money that goes into campaigns," he said to strong applause from the crowd.
Young also encouraged those who support alternative fuels to contact their lawmakers and urge them to maintain the Renewable Fuel Standard (RFS).
Listen to some of Young's comments here and watch the cell phone video sent by NFU staffer Melisa Augusto below: Neil Young for Ethanol