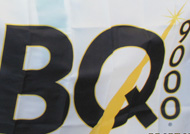 GROWMARK's Menard Terminal, near Petersburg, Ill., is being recognized for its quality biodiesel. The company received BQ-9000 certification by the National Biodiesel Accreditation Committee.
The National Biodiesel Accreditation Program, called BQ-9000, is a cooperative and voluntary program for the accreditation of producers and marketers of biodiesel fuel. The program's criteria for certification combine the ASTM standard for biodiesel, ASTM D6751, with a quality systems program that includes storage, sampling, testing, blending, shipping, distribution, and fuel management practices.
The facility features include heated storage, insulated piping, filtration and a pulse blending system. Biodiesel offered at Menard is 100% soy-based and meets all of the requirements of the industry standard, ASTM D6751, and the more stringent GROWMARK Quality Assurance Program. Blends in 2%, 5%, 11% and 20% for both clear and dyed diesel fuel are available. Dieselex Gold and SURE-FLO IV are also available for blending at the rack.
GROWMARK bought the Menard Terminal facility five years ago. It has storage capacity of more than 10 million gallons for gasoline, diesel fuel, ethanol and biodiesel, with the ability to custom blend biodiesel.