There will be a free Ethanol Safety Seminar on September 16, 2013 at the SAGE Center in Boardman, Oregon. The event is sponsored by the Renewable Fuels Association (RFA) and the Oregon State Police — Office of State Fire Marshal. There will be a morning session from 9:00 am to 2:00 pm and an evening session from 5:30 pm to 10:00 pm. The morning session will be followed by an optional tour of the Pacific Ethanol, Inc. production plant at the Port of Morrow.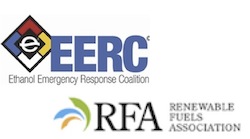 This course was developed to give first responders, hazmat teams, and safety personnel an in-depth look at proper training techniques needed when responding to an ethanol-related emergency. A majority of this training is based on the "Complete Training Guide to Ethanol Emergency Response," a training package created by the Ethanol Emergency Response Coalition (EERC) that has been distributed throughout the United States and to several countries worldwide.
"Safety within the ethanol industry is of the utmost importance," said Kristy Moore, RFA's vice president of technical services. "Preparation in education must be the first step for first responders, and we strongly encourage all those with responsibilities inside their communities pertaining to the industry to attend this seminar."
The Ethanol Safety Seminar focuses on numerous important areas of ethanol safety including an introduction to ethanol and ethanol-blended fuels, chemical and physical characteristics of ethanol and hydrocarbon fuels, transportation and transfer of ethanol-blended fuels, storage and dispensing locations, firefighting foam principles and ethanol-blended fuel, health and safety considerations for ethanol-blended fuel emergencies and tank farm and bulk storage fire incidents.
Registration is limited to the first 100 people per session. Lunch and dinner will be provided. Certificates of Attendance will be awarded to attendees at the completion of the course. Click here to register for this seminar.