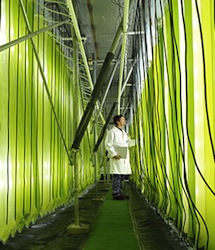 The Algae Biomass Organization (ABO) and the Algae Industry Incubation Consortium, Japan (AIIC), a group working to commercialize algae biofuels in Japan, announced a cooperative effort to share algae industry best practices and expertise during the International Symposium on Algal Biomass held in Tokyo, Japan. The AIIC contacted ABO for assistance in bringing together global algae expertise as part of the government of Japan's efforts to diversify the country's energy base.
"ABO and its members are honored to help the AIIC assemble an international community of experts to share knowledge about algae's potential as a renewable source of energy," said Mary Rosenthal, ABO's executive director. "The high yields of algae and the ability to grow in saltwater with minimal impacts on agricultural land make algae-derived biofuels and other products attractive for any nation interested in sustainable sources of energy."
ABO assisted the AIIC by facilitating contacts with global algae industry leaders, federal agencies and the research community.
"The AIIC is grateful for the cooperation of the Algae Biomass Organization and the international algae community," said Isao Inouye of the University of Tsukuba and Board Chairman of AIIC. "Japan¹s energy goals and technical expertise can play a positive role in accelerating the commercialization of algae cultivation technologies that can provide sustainable fuels, chemicals and other products. We are looking forward to a productive partnership."