According to the American Council for an Energy Efficient Economy (ACEEE), proposed bipartisan energy efficiency legislation has the potential to save the nation billions while creating domestic jobs and reducing energy waste. The Energy Savings & Industrial Competitiveness Act of 2013 (S. 1392) was introduced by Senators Jeanne Shaheen (D-NH) and Rob Portman (R-OH) and is pending floor consideration when the Senate returns from recess.
"Energy efficiency is an excellent, bipartisan and affordable way to immediately grow our economy and create the kind of jobs the 21st century economy demands," said Senator Shaheen. "The bipartisan energy efficiency plan Senator Portman and I have introduced will help address our country's energy needs in a way that boosts our economy and also saves taxpayers dollars."
The ACEEE analysis looked at the impacts of several provisions in the bill as well as a group of related amendments under consideration. These provisions cut government and industrial energy waste and help homeowners finance energy efficiency improvements, among other energy-saving measures. ACEEE found that the proposals being considered could, in combination, save consumers and businesses over $65 billion on their energy bills by 2030.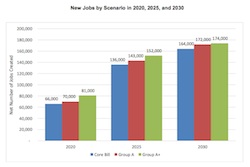 These savings also translate into a stronger economy says ACEEE. Consumers who save money on their energy bills can reinvest this money to buy goods and services where they live, stimulating their local economies. The energy efficiency measures proposed by the legislation would also help create new jobs. Altogether, these provisions would support an estimated 152,000 new jobs in 2025, increasing to 174,000 jobs by 2030.
In addition to providing economic benefits, the provisions would prevent unnecessary electric generation and natural gas consumption. Energy savings from these provisions would reduce greenhouse gas emissions by 676 million metric tons by 2030.
"The Senate should act quickly to pass this important legislation," said Steven Nadel, ACEEE executive director. "The provisions we analyzed have the power to save consumers money, stimulate the economy, and protect the environment."