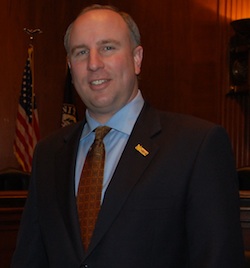 SURPRISE! Big Oil is spreading lies about ethanol, trying to compare the fuel to Canadian tar sands! I know you could just die from a lack of surprise on that one. But no surprise, the folks at the Iowa Renewable Fuels Association are not taking it lying down.
"The truth must be that, for whatever weird reason, [oil companies] raise more money attacking corn ethanol than they do attacking the Canadian tar sands," fired back IRFA Executive Director Monte Shaw during the recent groundbreaking of the Quad County Corn Processors biorefinery in Galva, Iowa, ticking off how the tar sands use more water, produce more carbon and greenhouse gases, and take more energy to mine and ship the tar sands than corn ethanol. "To compare that to corn ethanol is just ridiculous. It does not pass the sniff test."
Monte added that the Quad County Adding Cellulosic Ethanol (ACE) project, where a cellulosic processor has been bolted on to an existing ethanol plant, makes Big Oil nervous. Projects like this one are bringing out desperation in the oil companies, pointing out how more cellulosic plants are scheduled to come online in the coming months… and that means that much more share of petroleum's monopoly on your gas tank will be going away.
"Big Oil has lost 10 percent of its market in gasoline to ethanol. They do not want to lose another 5 percent," pointing out the billions of dollars on the line. Monte went on to say don't underestimate just what oil companies will do to preserve their stranglehold on your wallet. "They're wrong, but they're not stupid."
Monte went on to make sure that people know the truth when they hear the oil companies' lies.
"We just have to work through all those falsehoods put out by Big Oil."
You can hear Joanna's interview with Monte here: Monte Shaw, Executive Director IRFA
Visit the Quad County Corn Processors "ACE" Groundbreaking photo album here.