Ethanol producers are always looking to find ways to get more value out of their operations. Well, one company is offering ways for those plants turn more profits by adding on biodiesel. At the recent American Coalition for Ethanol's (ACE) "Unite and Ignite" conference in Des Moines, Iowa, Joanna caught up with Bernie Hoffman with WB Services, a renewable energy company offering a wide variety of plant optimization packages.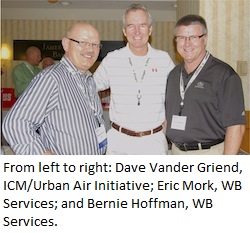 "We have a number of things that pay back in roughly a year or less," he said, adding that the capital costs are not high, so payback comes quick.
WB Services has two big technologies that help add value to corn ethanol plants. One is a refining technology that produces renewable diesel that is a match for the ASTM 975 standard for petroleum diesel. The other is a process developed working with Novozymes to produce a biodiesel using an enzyme, as opposed to a traditional transesterification process usually used in biodiesel production. Both of these technologies take advantage of the corn oil produced by an ethanol plant and is intended for either stand-alone operation or, more likely, as a bolt-on with an existing ethanol plant.
"We've done both, but our focus has been the ethanol industry so we've designed around the bolt-on concept," Bernie said, adding that the ease of integration really makes their technology the most attractive. Plus, he said since the process is feedstock agnostic, there's a great variety of plants this works with. "Restaurant waste oil makes a very nice fuel; brown grease, which is typically a low-grade by-product of animal processing; yellow grease, which is an abundant feed stock in the market," and more.
Bernie said from concept to running operation, it takes about 18 months for a renewable diesel operation but only about six months for a biodiesel refinery, with most of that six months waiting for EPA approvals.
If you'd like to know more, just check out the WB Services website.
Listen to Joanna's interview with Bernie here: Bernie Hoffman, WB Services