Purdue faculty and students took to the skies with biofuel when the Purdue Embrarer Phenom 100 flew during the recent Experimental Aircraft Association AirVenture, an international plane show. The airplane was unique in that one engine was filled with traditional jet fuel while the other engine was filled with a biofuel blend prepared by the Air Force. The plane was flown from the Purdue airport to Oshkosh, Wisconsin.
According to David Stanley, Purdue's Air Transport Institute for Environmental Sustainability (Air TIES) co-director, the demonstration flight was one of the first in the U.S. in which a university-owned jet flew with biofuels. This flight is just one in many that will bring Purdue closer to its goal of operating a green training fleet.
Pilot Lisa Lewis, director of flight operations at Purdue Airport, was joined in the cockpit by student co-pilot, Braxton Baker. Air TIES uses student researchers on their projects because they are the next generation of aviation leaders.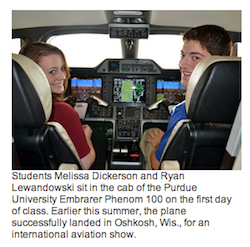 Richard Simmons, executive director of research at the Air Ties Research Center noted that while there have been many flights, they have mostly been with larger jets. This flight was unique, he said, because it involved a smaller aircraft in a university setting. Simmons explained that it is one of the first university jets to travel using a biofuel blend.
Upon arrival, the jet was taxied to the exhibit area and viewed by air show attendees.
"The fuel was approved and meets the same specifications as a jet fuel," Simmons said in an article in AgriNews. "There was very little concern about performance. That's one reason we want to go back and compare performance data and validate it."
Before and after the flight, key performance measurements will be studied and selected system inspections will be made. During the flight, engine and fuel system measurements were compiled and corresponding data from previous research from the laboratory will be compared and analyzed as the basis for an exploratory paper on the use of biofuels in aircraft of this size. The biofuel Purdue is studying includes Camelina-based HEFA (hydroprocessed esters and fatty acid).
Purdue also will use a Honeywell TFE-109 turbofan engine to conduct extensive emission and performance tests on the same fuel supply from the Air Force. The Honeywell engine is similar in size and thrust as the engines on Purdue's Phenom 100.
The U.S. Air Force and the Air Force Research Lab have supported the Air TIES biofuels research by helping to develop advanced fuel testing capabilities over the past four years. The partnership with Purdue also involves providing biofuels for ongoing emissions and engine operations tests at the National Test Facility for Fuels and Propulsion in the Niswonger Aviation Technology Building at the Purdue University Airport.