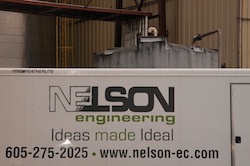 Do you know Nelson Engineering? No, well you should. The company hit my radar a few weeks ago while in Galva, Iowa during the Quad County Corn Processors ground-breaking for its new Adding Cellulosic Ethanol "ACE" project, a bolt-on technology innovation that will specialize in converting corn fiber into cellulosic ethanol. Nelson Engineering is the lead engineering firm on this project.
I caught up with Rick Serie, director of business development, during the 26th Annual Ethanol Conference and learned that Nelson Engineering was founded about six years ago and they are a very diversified company. They offer the biofuel industry, and beyond, every different principle of engineering you could ever imagine. The team, explained Serie, is also very diversified and chalk full of biofuel experts.
Serie has been in the ethanol industry since the mid-90s and he said that he still enjoys the industry. Why? Because ethanol so good for America and so good for agriculture. He noted that when he began in the industry a bushel of corn sold for $2 and farmers were still receiving subsidies. But today, he noted, no one talks about this because growers no longer need the subsidies.
Nelson Engineering is a bit unique, explained Serie because they do more than one would think of as "traditional" engineering. For example, he believes they have one of the strongest safety programs for an ethanol (or biorefinery) facility. He said that Occupational Safety and Health Administration (OSHA) is staffing up and the Environmental Protection Agency (EPA) is staffing up and visiting ethanol plants. When they come in, he said, they give citations and fine the plant.
"So what we do," continued Serie, "is we do safety audits for plants to give them that reassurance that they're up to compliance. And if they do have holes in their compliance, so to speak, we can help them get up to compliance." He said it's a very thorough audit and takes several days.
This is not all they do. You can learn more about the company, their services and the work they are doing on the ACE project by listening to my interview with Rick Serie here: Getting to Know Nelson Engineering