A new white paper released by the Ethanol Across America Campaign finds that mid-Level ethanol blends can provide significantly greater emission and health benefits than U.S. Environmental Protection Agency (EPA) models indicate. "Understanding the Emissions Benefits of Higher Ethanol Blends: EPA Modeling Fails to Tell the Whole Story," was authored by Steve Vander Griend of the Urban Air Initiative and released during the 26th Annual Ethanol Conference.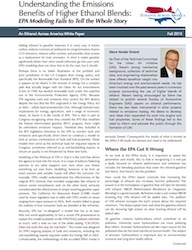 "Adding ethanol to gasoline improves it in every way. It lowers carbon, reduces common air pollutants for smog formation, lessens CO2 emissions, reduces sulfer content, and provides clean octane as a replacement for toxic aromatics. In short, it makes gasoline significantly better than what would otherwise go into your tank. EPA's modeling does not show that to be the case, but it should." This begins the white paper debunking the research that the Environmental Protection Agency (EPA) commissioned to show that gasoline blended with E30 (30% ethanol, 70% gasoline) is dirtier than gasoline not blended with ethanol.
Vander Griend writes that ethanol's chemical property has a beneficial distillation point that makes it almost impossible for it to cause the kinds of increases EPA claims. In fact, he argues, it is the highly toxic aromatics added to gasoline in the EPA testing procedures that cause significant increases in criteria emissions. He makes the case that ethanol is a superior blending agent that can replace toxic components of gasoline used for octane. Ethanol provides clean octane that, when properly blended, would create value for blends well beyond 10 percent volume.
The EPA findings relate to the Renewable Fuel Standard (RFS) and a specific model developed by the EPA required in the Energy Independence and Security Act of 2007.
Click here to read the whitepaper. Visit the ACE 26th Annual Ethanol Conference photo album.