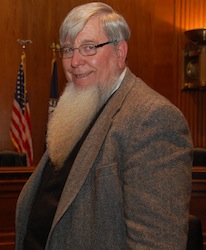 This week, we've been telling you about the American Coalition for Ethanol's (ACE) "Unite and Ignite" conference in Des Moines, Iowa. And while the attendees have been talking ethanol in Iowa, we've also given you some insights from ACE's Biofuels Beltway March earlier this year when about 70 ethanol backers gathered on Capitol Hill to talk ethanol with the Nation's lawmakers. During that visit, Joanna caught up with Ray Defenbaugh with Big River Resources, an ethanol producer and advocate who was surprised just how much misinformation is still out there about the green fuel.
"During the presidential campaign and people running for legislative office, we heard frequently that we're not getting our message out. As much as we've tried, there's still some people who haven't gotten it, or they've gotten it inaccurately," he said. The group fielded lots of questions about food-versus-fuel, energy usage during production, impacts on corn stocks and more. In addition, they had to head off those who thought there should be delays in implementing the Renewable Fuels Standard. "We were able to explain to them what that would do as far as uncertainty for future development of the cellulosic industry, and we were able to explain that the RFS is working with many of their concerns already addressed in the RFS."
Ray said the information was well received, but he was surprised just how many didn't understand the relationship of ethanol and the lack of subsidies, how animal feed supplies are really not impacted by ethanol production, and the intricacies of the RFS.
"Several of them did not understand the impact that (losing the RFS) would have on our rural communities and farmers today," explaining to many in Congress that renewable energy has also meant good prices for commodities, meaning fewer subsidies… tax dollars… needed to go to farmers.
Ray said it's just a matter of educating people about ethanol, something that those connected to the industry need to do all the time.
"We have a really good product and industry, and be patient [on cellulosic]. There will be a growth on that cellulosic industry that compares to what the corn ethanol did."
Listen to Joanna's interview with Ray here: Ray Defenbaugh, Big River Resources