Renewable Waste Intelligence has just released a report, RWI Insider Interviews:
The Municipal Perspective on Waste Conversion Projects, that features five in-depth interviews with executives that focus on waste management to energy. Interviews featured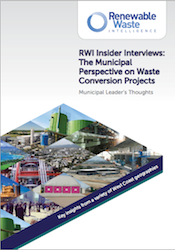 are with the County of Maui; the City of San Jose; Humboldt Waste Management Authority;, Monterey Regional Waste Management District; and the City of Glendale. The interviews provide insight into the experience of companies currently undergoing municipal waste conversion projects including opportunities and challenges the projects face.
The goal of the brief is to give the reader insight into how municipalities deal with regulatory & technical issues, have changed public perception, utilised public-private partnerships and financed projects; and understand how municipalities go about selecting project partners and technology providers.
For instance, Kyle Ginoza, Director of the Department of Environmental Management in the
County of Maui, Hawaii, notes, "The greatest challenge is perhaps ensuring that a waste conversion project is economically viable. We face constraints in acceptability of the project from an electricity generation perspective, since there is a multitude of existing renewable energy projects in the region. Consequently, our waste conversion project will entail generating liquid and solid fuels as the output marketable products."
The paper was launched as a prelude to the upcoming Waste Conversion Congress taking place December 3-4, 2013 in San Diego, California. Click here for more information and to register.