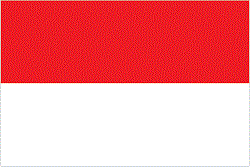 Indonesia wants to increase its use of biodiesel. This story from The Jakarta Post says the government's finance and energy ministries came up with the plan to be greener and solve a fiscal deficit.
"The policy is being finalized with an aim to reduce oil and gas imports significantly," [Deputy Finance Minister Mahendra Siregar] said as quoted by Antara news agency.
Mahendra further explained that the policy was aimed at reducing the current account deficit and to maintain the stability of rupiah exchange rate, the first of four policies in the government's economic package issued on Friday.
In the second quarter of 2013, the current account deficit reached 4.4 percent of the Gross Domestic Product (GDP).
Mahendra said the mandatory biodiesel use of 10 percent would be implemented starting from September 2013 to replace subsidized diesel fuel in Bali, Java, Kalimantan and Sumatra.
The rest of the country will see the 10 percent mandate starting at the beginning of 2014. The Indonesian legislature is expected to discuss the new regulation.