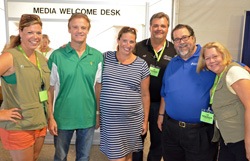 While at the 2013 Farm Progress Show, NASCAR driver Kenny Wallace stopped by to talk about ethanol and why he's so passionate about helping farmer's get their message out about E-15 and using it, not only in race cars, but in cars traveling up and down the highway as well.
Wallace loves to help spread the message about how ethanol blends can help increase the performance of all types of vehicles, because he knows how E15 performs in the race cars he drives on the NASCAR circuit.  He teamed up with the Illinois Corn Growers Association as a sponsor several years ago and never gets tired of talking about the home-grown fuel.
"I get to educate people that ethanol is a high performance fuel, it burns really clean and all it did was do good."
You can listen to Leah's interview with Kenny here Interview with Kenny Wallace
Kenny is pictured here at Farm Progress Show with Leah Guffey to his right, Tricia Braid with Illinois Corn Growers Association to his left, Jeff Nalley with Cromwell Ag Radio, Renewable Fuels Association president and CEO Bob Dinneen and Domestic Fuel editor Cindy Zimmerman.