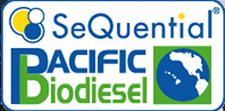 A biodiesel maker in the Pacific Northwest hits a milestone in making the green fuel and strikes a deal with a major collegiate athletic program in the area. SeQuential Pacific Biodiesel, which turns waste cooking oil into biodiesel, has produced its 20 millionth gallon of the fuel. And this company news release says the region's longest-running commercial biodiesel producer has struck a deal with the University of Oregon to recycle the athletic department's cooking oil into biodiesel.
The University of Oregon joins more than 7,000 Northwest organizations in working with SeQuential Pacific Biodiesel to recycle cooking oil. SeQuential Pacific's fuel is made from used cooking oil collected from local restaurants, businesses, hospitals and schools. These relationships help benefit the environment by diverting a waste stream – keeping used oil out of landfills or the sewer system – and by producing a cleaner-burning fuel. Biodiesel made from used cooking oil is significantly cleaner than petroleum diesel, emitting up to 78 percent less carbon dioxide and other harmful gasses.
"Oregon Athletics is committed to playing a leadership role in the university's greening efforts," said Craig Pintens, Senior Associate Athletic Director for Marketing & Public Relations. "From individual offices to our complex of athletic venues, our staff, student-athletes, and supporters are making a difference for the environment. We are excited to be working with SeQuential Pacific Biodiesel to ensure that the waste oil generated by our athletics concessions will be put to good use for the environment as well as for the community."
"Twenty million gallons is a major milestone for us and a testament to the partnerships we work to foster between our team, our customers and the community," said Tyson Keever, general manager for SeQuential Pacific Biodiesel. "Our relationships are critical to what we do. We're particularly excited about this agreement with the University of Oregon because it has already played a big role in shaping our story."
What also makes the deal even better is that many of SeQuential's founding members are also Oregon alumni.