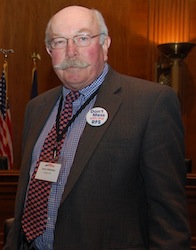 As members of the American Coalition for Ethanol (ACE) gather in Des Moines, Iowa this week to "Unite and Ignite" for their 26th annual conference, there's some simple advice for those advocating for the green fuel.
"Keep it simple … say what you know … be able to back it up," advised Larry Johnson, a lead consultant with LLJ, Cologne, Minn., when asked by Joanna how he talked to legislators in Washington, D.C. during last March's ACE Biofuels Beltway event when about 70 ethanol backers gathered on Capitol Hill to tell ethanol's story.
Larry said the lawmakers earlier this year had lots of questions many Americans have about ethanol: asking about things such as the food-versus-fuel debate and ethanol blends in off-road and marine engines. He also made the point that advanced biofuels are not just something that are coming sometime in the future.
"Advanced biofuels are definitely here now," he said, specifically pointing out that cellulosic ethanol is past the days when advocates kept promising that it was "just around the corner." "We have several companies, Abengoa, POET, DuPont, Ineos down in Florida, that [are] building and even one is in production down in Florida. The other plants have got steel in the ground. By the end of this year, we'll have our first production facilities from corn stover and other products."
While he admitted it's been a long process to get here, Larry believes once the cellulosic process is tweaked, things will really take off.
"It's going to boom again, and we'll see a lot of this."
Listen to Joanna's interview with Larry here: Larry Johnson, LLJ, Lead Consultant