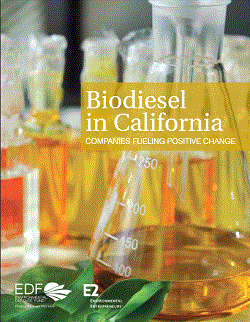 California is poised to make some big waves in the biodiesel market… at least according to a new study from the Environmental Defense Fund and E2. This story from Biodiesel Magazine says the report profiles six companies in California revolutionizing the industry.
"Once again, California is ahead of the curve when it comes to delivering on fuels that not only protect the environment but also make good business sense to produce," said Emily Reyna, senior manager of partnerships and alliances for EDF. "Because of the state's commitment to biodiesel, we'll continue to see biodiesel opportunities grow, an industry that is prime to be a leader in alternative fuels for California."
The companies profiled in this case study—Biodico, North Star Biofuels LC, Yokayo Biofuels, Crimson Renewable Energy LP, Imperial Western Products and Propel Fuels—each demonstrate one of the six steps of the biodiesel value chain. These companies are integrating innovative practices and expanding the commercialization of low-carbon fuels with production capacities up to 20 MMgy. Some of these companies recycle used cooking oil as a feedstock, some are working to supply the Navy and oil refineries with lower carbon fuels, while others are working to assure choosing a biodiesel blend is as easy as picking up a different fuel pump.
"The case study serves as a great reminder that California is successfully producing biodiesels that are cost-effective, will reduce emissions, and provide quality jobs in the state," said Biodico President Russ Teall. "To stay competitive and grow California's economy, it's imperative we continue to support the policies and businesses that are working hard every day to strengthen our biodiesel industry."
The study goes on to credit California's low carbon fuel standard (LCFS) for driving biodiesel demand and growth. It also credits the federal renewable fuels standard (RFS) combining with the LCFS for helping expand California's and the Nation's biofuels industry.