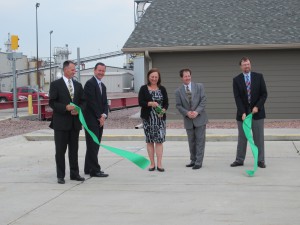 Green Plains Renewable Energy (GPRE) held a ribbon cutting for their newly acquired ethanol plant in Atkinson, Nebraska. GPRE bought the idled plant in June 2013 after being offline for nearly a year. The plant employs 42 people, a third of which were employed at the plant prior to its shutdown, and is now in full operation. With the acquisition of the biorefinery, GPRE now has 10 ethanol plants in operation and is the fourth largest producer of ethanol in the world.
The Atkinson ethanol plant will produce 50 million gallons of ethanol each year from approximately 15-17 million bushels of corn and will also produce 145,000 tons of distillers grains (DDGs – livestock feed).
Nebraska Senator Deb Fischer lauded the community of Atkinson and surrounding area for it's accomplishments and also thanked GPRE for their investment in north central Nebraska. She said GPRE is a great company and they not only recognized the great community of Atkinson, but that they are also looking to build a strong partnership with the community.
Sen. Fischer is a rancher who feeds her cattle DDGs. "One thing I always tell folks about agriculture: We have to stick together," said Sen Fischer. "We need to stick together in rural communities. And when we have a business partner like Green Plains that is willing to come in to this community, willing to make a pretty darn big investment in this community to provide good jobs, to provide a market for your crops, to provide a by-product for livestock producers, I think we all need to thank them for making that investment."