U.S. Senators Amy Klobuchar (D-MN) and Chuck Grassley (R-IA) called on the Justice Department and Federal Trade Commission (FTC) to investigate possible anticompetitive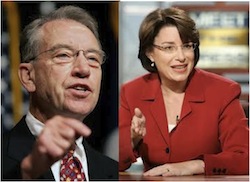 practices by oil companies that limit consumers access to homegrown renewable fuels such as ethanol. In a letter to Attorney General Eric Holder and FTC Chairwoman Edith Ramirez, Klobuchar, the Chair of the Antitrust Subcommittee, and Grassley, the Ranking Member of the Judiciary Committee, urged the Administration to take action to address recent reports indicating that oil companies may be undermining efforts to distribute renewable fuels, including higher ethanol gasoline blends, that help boost our nation's energy security and lower the price of gas for consumers.
"The promise of renewable fuels is rapidly becoming a reality and introducing much needed competition to the transportation fuels sector," the members said. "Given the implication these alleged activities, if true, could have on competition in the marketplace, we urge you to investigate them and consider whether any action is necessary. We look forward to working with you to ensure that Americans can continue to realize the benefits of cheaper, cleaner renewable fuel."
Both Senators Klobuchar and Grassley have been strong advocates for the continuation, as is, of the Renewable Fuel Standard (RFS).
In response to the Senators' calls for a Big Oil investigation, Ron Lamberty, Senior Vice President for the American Coalition for Ethanol (ACE), said, "ACE members thank Senators Grassley and Klobuchar for standing up to Big Oil and investigating this market-restricting behavior on the part of the oil companies. The RFS will only be unworkable if Congress allows Big Oil to make it appear unworkable. If we had more lawmakers like Senators Grassley and Klobuchar, maybe Big Oil's attacks wouldn't be taken so seriously in Washington.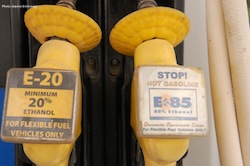 "As a fuel station owner, every time I hear some Big Oil mouthpiece saying we should "let the market decide" how much ethanol is used, I think of these kinds of restrictions the oil companies have been jamming down station owners' throats for decades, making sure only one decision is possible – oil," continued Lamberty who notes that Senators Grassley and Klobuchar are right.
Lamberty noted that this year alone, Big Oil has spent millions on ads to convince consumers and Congress that they don't want E15 or other ethanol blends that they've never been allowed to try. "And to make that distortion appear real," adds Lamberty, "oil companies have done everything they can to make sure station owners are never allowed to sell the fuel, and consumers are never allowed to buy it."
"Oil companies have even gone to the extent of using their control of the pipeline system to make a lower-octane substandard fuel the main fuel used in the country, precisely because that fuel allows them to control the distribution and cost of ethanol. We encourage the Department of Justice and FTC to commence this investigation immediately," Lamberty concluded.