They say nothing is a secret in Washington, D.C. and it's no secret that after intense pressure from several environmental organizations including 350.org, solar panels are now being installed on the White House. Some will remember the days when President Jimmy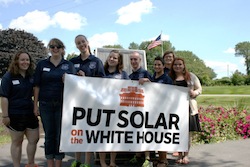 Carter installed 32 solar panels on the storied home back in the late 70s only to have them removed when President Ronald Reagan took office in 1981 saying they were a "joke".
Another company that helped lead the effort was Sungevity, whose co-founder Danny Kennedy helped solicit more than 50,000 signatures in 2010 urging the President and First Lady to install solar power on the White House.
"Sungevity applauds President Obama for upholding his commitment to renewable energy by putting solar panels back on the White House. Solar is fast becoming America's most popular home improvement, and we are very pleased to see the First Family follow the American peoples' lead," said Kennedy. "Support for solar energy is one issue that rises above the political fray. All Americans can reap benefits from widespread solar adoption – solar power saves money, boosts the economy and creates jobs."
In light of the news installation has begun, Unity College, an environmental college in Maine, has been promoting its role in rescuing the original solar panels from obscurity. In 2010, Swiss filmmakers Christina Hemauer and Roman Keller told the story in a documentary called, A Road Not Taken. When President Carter installed the panels atop the White House, he characterized the action as either a bold step in the development of cheap, renewable energy, or an example of a road not taken. The latter was the course of history and artistic focus of the documentary.
Sara Trunzo '08, Food and Farms Project Coordinator at Unity College, was featured in the documentary. She and another Unity College alum, Jason Reynolds '05, went on a road trip from Unity, Maine, to the Carter Center in Atlanta, Georgia, searching for the meaning of America's turn from the opportunity to pursue renewable energy that President Carter had championed.
"My participation in 'A Road Not Taken' was a transformative moment in my education because it helped me understand the power of integrating sustainability, communication, policy, art, and activism to send a message," said Trunzo. "The film is a beautiful piece of modern storytelling that captures an important moment in US energy history and Unity College history, too."