The newly confirmed head of the Environmental Protection Agency visited the Iowa State Fair last week where she spoke to farmers and met with environmentalists.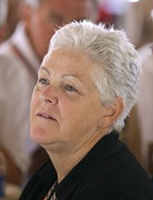 EPA Administrator Gina McCarthy stressed her goal of building a better relationship with farmers. "My commitment to you is that at the end of my term, we will have a stronger, more productive, more trusting relationship between EPA and the agriculture community," she said during her brief remarks.
In an interview with USDA Radio from Iowa, McCarthy was positive about the role of renewable fuels going forward. "We're at a pretty exciting time," she said. "We are seeing a lot of activity, especially here in Iowa where they have advanced ethanol plants. We're working closely with the farming community and we're looking at new feedstocks all the time, new ways of producing biofuels."
Earlier this month, the EPA published the final 2013 Renewable Fuel Standard (RFS) volumetric blending requirements, or Renewable Volume Obligations (RVO), and McCarthy says they support the RFS. "We see that the Renewable Fuel Standard is operating effectively, that the law gives us plenty of tools and flexibility that we can move this forward," she said.
McCarthy was just confirmed as the administrator of EPA last month.