The ethanol industry is helping Patriot Renewable Fuels celebrate it's 5th Anniversary this month with congratulations and well wishes for another successful five years and beyond. In addition, Patriot is thanking several of its partners including CHS, a farmer-owned cooperative that has enabled Patriot to connect to global distiller grain (DDGS) markets.
Each year, the ethanol plant produces 320,000 tons of high-quality animal feed that is loaded into containers on site and exported by CHS to Asian countries including China, South Korea, Vietnam, Taiwan and Japan. As countries around the world gain wealth there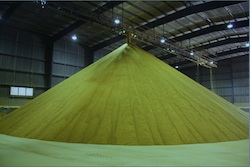 has been a significantly increasing demand for meat and as a result, for more animal feed. Distillers grains are a high-protein, cost-competitive feed for cattle, hogs and other animals.
"Our DDGS exports have contributed an additional $300 million reduction on our nation's U.S. trade deficit," explained Gene Griffith, the plant's general manager. "Over five years, corn purchased from area growers and processed into DDGS, a value-added protein ingredient, has fed approximately five million hogs."
Griffith said due to the success of the relationship, Patriot has also expanded its relationship with CHS by naming them as its ethanol marketing partner. "Over the last five years, Patriot Renewable Fuels has shipped approximately 18,000 rail cars of ethanol," said Griffith. "Together, Patriot Renewable Fuels and CHS are contributing significantly to rural economic development and providing consumers with a dependable, high quality ethanol fuel supply."
But how does the corn needed to produce the ethanol and DDGs get to the plant at the right time? CGB, has been fulfilling this role for Patriot since the plant went online. Griffith noted that since Patriot began producing ethanol, the plant has operated in some of the tightest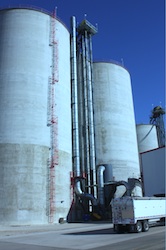 U.S. corn stocks to usage ratios in history and through this as well as other challenges, CGB has been a successful partner.
Dan Aubry, CGB grain procurement manager said that the company's strategic placement of facilities across the corn-belt have allowed the origination of grain throughout a 60-mile radius of the plant and allows utilization of other resources when the need arises.
"We've utilized Iowa rail corn and brought corn up the Illinois River from southern CGB origins," explained Aubry. We've also brought corn from our southwest, northern and northeastern locations. Our footprint in northern Illinois and access to the Illinois River gives us an enormous draw territory and we've certainty utilized and will continue to utilize that for Patriot's needs."
Aubry added that his company looks forward to working with Patriot long into the future.