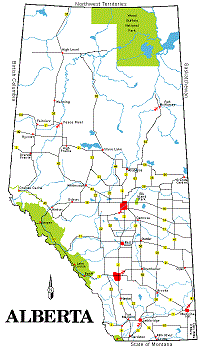 A Canadian province most well-known for its petroleum products could be that country's leader in non-petroleum energy. According to this article in the Edmonton Journal, Alberta, in all the headlines for its oilsands, could end up leading Canada by replacing half of its transportation fuels with biodiesel and ethanol.
"We now have ethanol from grain and biodiesel from oilseeds, and we can also have ethanol from poplar which is not used in many forestry management areas and we can grow dedicated energy crops," said Bradley Saville, a professor of chemical engineering from the University of Toronto.
He spoke Friday at an event organized by the Biorefining Conversions Network on the University of Alberta campus.
He said a recent study determined that by using just five per cent of the arable land in Canada, 29 billion litres of biofuel could be produced.
"And while Alberta is the energy superpower because of its oil production and the oilsands, this scenario sees the province as remaining the superpower in biofuel production because of the large amount of really productive land in the province."
But the trick for Canada is to get "from where we are now, which is a pretty low level, to a higher level. You have to have confidence as an investor, so this process will be incremental over the years," said Saville.
One of the oilseeds seen as having great potential north of the border is camelina, although right now, it's not as economical because there's no market for the seed's meal. But experts believe that will change.