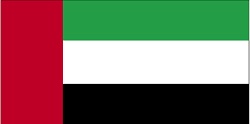 You would think that in a country awash in petroleum, biodiesel just wouldn't stand a chance. But here's another story of biodiesel making some inroads in the oil-rich United Arab Emirates. The Post & Parcel reports that TNT Express is trying out biodiesel in its vehicle fleet.
The global integrator's commercial vehicles in Dubai will use a kind of diesel that has 5% used cooking oil blended with the petroleum-based diesel.
The so-called B5 Biodiesel is supplied by local firm Lootah Biofuels, a subsidiary of Dubai-based SS Lootah Group.
TNT Express said using the alternative fuel would help reduce the amount of used cooking oil requiring disposal, and also cut carbon emissions compared to conventional diesel.
The company said its project with Lootah Biofuels would cut carbon emissions by about 32 tons each year.
This comes on the heels of last month's story about how Del Monte in the UAE is using used cooking oil from McDonald's made into biodiesel by Dubai-based Neutral Fuels.