During this year's Sturgis event in Sturgis, South Dakota, bikers from across the country who were staying at the Buffalo Chip Campgrounds were treated to free ethanol-blended fuel compliments of the Renewable Fuels Association (RFA).
The "Free Fuel Happy Hours" promotion enabled motorcyclists to fill their tank, free of charge, with 93 octane E10 (10 percent ethanol). This high octane fuel was not available in the area, and was brought in specifically for the event. The Free Fuel Happy Hours spanned three days – August 6-8, 2013 – from 1:00 to 4:00 pm.
During the event, RFA discussed ethanol blended fuel with riders and also heard some great feedback. Michael Price from Long Beach, Washington, said that he has the 93 octane ethanol blend in his hometown and has been using it for years. He said his engine runs great and he never had any trouble with the blend.
Ethanol u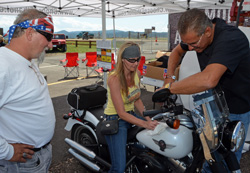 se in motorcycles is not limited to the U.S. – a biker from New Zealand stopped by to fill up his Harley and said ethanol worked well for him.
You can hear what several riders had to say about ethanol in this audio clip. Free Fuel Happy Hour at Sturgis
2013 Sturgis Motorcycle Rally Photo Album