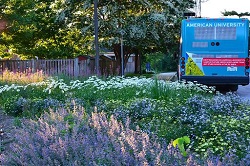 Students at a major Washington, D.C. university will be breathing a little easier on clean-burning biodiesel shuttle buses. The National Biodiesel Board says American University will run three new biodiesel-powered shuttle buses as students come back to campus this month.
"The new design is the perfect opportunity to showcase our shuttles in a way that also highlights our commitment to the education process and our branding for the university as well," said Mark Feist, AU's assistant director of grounds, vehicle maintenance and support services.
AU transitioned to biodiesel for its entire diesel fleet in December 2012, after obtaining an on-campus 1,000-gallon storage tank.
NBB went on to mention how the Nation's nearly half a million school buses and the environment could benefit from the transportation running on biodiesel, not to mention the cleaner air more than 25 million students could be breathing every day. Many colleges, universities and school districts around the country are already using the green fuel to power their fleets. More information from NBB on biodiesel buses is available here.