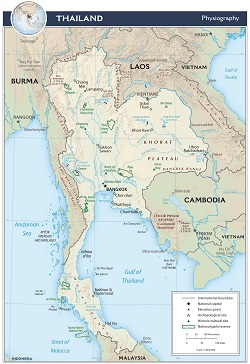 Thailand plans to crank out more biodiesel and increase the amount of the green fuel required to be in the mix. This article from Platts says the Southeast Asian country will increase biodiesel production targets from 5.9 million liters per day to 7.3 million liters per day by 2021. Right now, Thailand cranks out 2.8 million liters per day.
Plans to increase the country's biodiesel production target — which has to be approved by parliament — comes as the energy ministry announced last week its target to roll out B10 biodiesel — a blend of 10% palm-oil based biodiesel and 90% diesel — nationwide by 2019.
Thailand currently has a B5 biodiesel mandate in place, where diesel sold at the pump is blended with 5% palm methyl ester. The government is aiming to roll out a B7 mandate in January next year.
"We've sent clear signals to car makers and oil traders in Thailand that we'll proceed with higher biofuel content in the coming years," Energy Minister Pongsak Raktapongpaisal said at an energy forum last Thursday, according to a report by the Bangkok Post August 9.
Thailand's 13 biodiesel refineries are capable of producing 5.4 million liters per day but could double capacity if farmimg inefficiencies are reduced.