Natural Power has been in the news lately with several announcements. The company has been recognized by The Green Organisation, with its Green Apple award, for its overall environmental performance.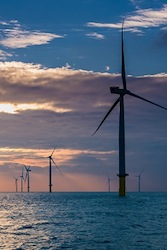 In addition, the company has been appointed by First Flight Wind Ltd, the developers of Northern Ireland's first offshore wind farm, to provide bird and marine mammal advisory and survey works over the Wind Resource Zone. Flight Wind, a consortium comprising of B9 Energy, DONG Energy and Renewable Energy Systems Ltd (RES), was awarded a Wind Resource Zone of approximately 438km² off the Coast of County Down, Northern Ireland, by The Crown Estate in Autumn 2012.
Starting in July 2013, Natural Power's experienced Ecology team commissioned a local Kilkeel vessel, to carry out the surveys, which are expected to last until late 2014. The boat-based surveys will see ornithologists and marine mammal observers undertaking surveys each month to collect data suitable for analysis and impact assessment.
In other news, Natural Power announced plans to open a new office in Stirling, Scotland this fall. The office is expected to be the single largest renewable energy consultancy office in Scotland, with capacity for 140 staff. Around 90 staff will transfer from the company's current central belt locations, leading to significant job creation opportunities over the next 24 months.