The National Conference of State Legislators kicked off in Atlanta, Georgia yesterday and today the group has invited Geoff Cooper with the Renewable Fuels Association (RFA) along with Patrick Kelly of the American Petroleum Institute (API) to debate the Renewable Fuel Standard (RFS). According to Cooper, the invitation was extended because state legislators want to learn more about the program and how it affects its constituents throughout their states.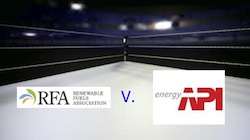 The RFS, says Cooper, is one of the most successful, if not the most successful, energy policy the U.S. has ever legislated. Coupled with the rapid growth of the biofuels industry – biofuels have gone from around 2 percent of the fuel supply to 10 percent in a little over six years – the oil industry is now taking note of its lost market share and is now attempting to put their feet in the sand to keep from losing more.
While the biofuels industry continues to fight for the RFS while also educating consumers and legislators about biofuels and the success the policy is having, Cooper said the top priority of the industry right now is to expand the use of E15 and E85. E15 will get the industry over the so-called "blend wall" while higher blends such as E85 will enable all the fuel required by the RFS (36 billion gallons by 2022) to be blended with the fuel supply.
"I think a lot of people had written E85 off over the past several years, but we're in an environment today where E85 prices are very competitive to E10 on a energy equivalent basis," explained Cooper. "As a result, we are seeing renewed interest in E85, unlike anything we've seen in the last five to ten years. E85 sales are really jumping in markets where it is readily available and consumers understand it and there is some level of competition."
Cooper is confident that the more legislators learn about now the RFS is working, the more supportive they will be in keeping the policy in place and moving forward.
Listen to my interview with Geoff Cooper here: Biofuels Versus Big Oil