There is a significant amount of attention being paid to the Renewable Fuel Standard (RFS) but one area that hasn't been talked about much is the role of sugarcane ethanol in the RFS. To learn more, I spoke with Leticia Phillips the representative for North America with UNICA – the Brazilian Sugarcane Industry Association.
She said that under the RFS, Brazilian sugarcane ethanol is classified as an "other advanced biofuel" and by 2022 this category of fuel is to contribute 4 billions gallons to the fuel supply. Phillips said that today, sugarcane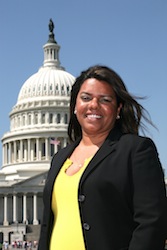 ethanol is the best performing biofuel commercially available today. According to Environmental Protection Agency (EPA) calculations, sugarcane ethanol reduces greenhouse gas emissions (GHG) by at least 61 percent when compared to traditional fuel, i.e. gasoline.
Today, sugarcane ethanol represents 3 percent of all fuels under the RFS, but it is actually one quarter of the advanced pool of the fuels for the RFS. Phillips says it plays a pretty important role and provides a secure flow of biofuels.
Brazilian sugarcane ethanol has been under fire because its not "American-made" and also because many argue it doesn't have the GHG emission reductions that the EPA says it does. I asked Leticia why UNICA believes push-back on the biofuel is misplaced.
Leticia said from her viewpoint is that the RFS doesn't specify that the fuel must be made in America, but rather the goal is to reduce carbon emissions. "The goal should also be to help America become energy secure and energy diverse," explained Phillips. She said that energy security and energy independence both mean looking at where the country can get better performing biofuels for the program.
While she understands some of the push-back from the market, she stressed that a bigger problem with the RFS today is the so-called "blend wall" issue coupled with the fact that American fuel use is dwindling – a scenario no one anticipated when the RFS was created.
To learn more, listen to my interview with Leticia Phillips here: Why Sugarcane Ethanol is Essential to the RFS
For more information on sugarcane ethanol, visit UNICA's sugarcane website.