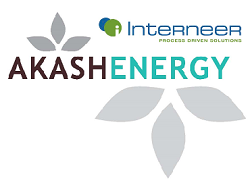 Houston, Texas-based Akash Energy selected software developer Interneer, Inc. to help the provider of biodiesel and ethanol, as well as petroleum products, automate some business processes. This Interneer news release says the business mobile apps will be used throughout Akash's distribution chain, from raw material sourcing through distribution to Akash's retail stations, expected to open later this year:
In 2013, Akash developed an inventory management and invoice processing solution using Intellect BPM that has been integrated into its existing operations. Further, Akash is using Interneer to integrate strategic planning processes into every aspect of their operation. The strategic planning module will link every task to an objective and its corresponding goal, revolutionizing the employee relationship with the company's mission.
"I am part of the Millennial Generation, which is a unique generation in the sense that we bridge the gap," said Justin Heller, Founder and President of Akash Energy. "We grew up before technology had infiltrated every aspect of our lives, but came of age as it did, leading to one of the most significant paradigm shifts since the industrial revolution. The ability to connect with anyone, anywhere, at any time, coupled with universal access to the sum total of human knowledge, is creating a population that is becoming exponentially more conscious of the consequences of their actions."
Akash officials say the Interneer software is "robust and completely customizable," crucial elements for their sustainable energy operation. Plus, they say the program will allow them to better manage fuel sourcing, production, and inventory in real-time.
"Sustainable energy is a robust and high growth market with constant change taking place," said Romeo Elias, CEO of Interneer. "The ability to rapidly adjust business processes and yet at the same time track details for compliance is crucial to the success of any company in the energy and utilities space. We are pleased that Akash Energy chose to run their critical business operations on Interneer and to empower employees across the enterprise and partners over an extended network."