According to an article in The Guardian, the United Kingdom (UK) is willing to pay for the best biofuels. The UK government is hosting a competition to come up with the most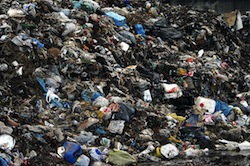 viable demonstration plants for biofuels made from waste organic materials, such as wood waste or straw.
Many groups, especially environmental groups, have begun to lobby in favor of "better biofuels" or ones they consider to be both better for the environment or for society. Within this context, groups are opposed to first generation biofuels– or those that can be used for "food-" aka the food versus fuel debate. In light of this trend, focus has shifted to biofuels made from other feedstocks, especially waste materials – things that would end up in landfills.
Attempts to manufacture biofuels from waste have been going on since the late 1960s; however, until now, research has been limited to the lab have have not met with great success. Yet growing concerns about the environment has brought more attention to the transportation sector and a resurgence in waste-to-energy technology has evolved. Today, the industry is beginning to see some success at demonstration level.
In the UK, Ministers believe that research has now reached a stage where advanced biofuels are commercially possible. The department for transport said indications from the biofuels industry have demonstrated there are potential projects with a modicum of interest. The Ministers believe there will be several "high quality" bids for the 25m on offer, which must be matched by private sector investment.
Norman Baker, the Liberal Democrat transport minister, told the Guardian, "It's hugely important that we decarbonise transport. We have been up hill and down dale on biofuels in the past few years. What we need to do is distinguish between good biofuels and bad biofuels, and this competition will produce good biofuels."
The first step of the prize will involve a feasibility study detailing the design of the competition and the criteria that needs to be met by any bidder. This stage is expected to take four or five months, after which bids will be accepted. A winner could be announced within a year, but the process could take longer depending on the bids received. The prize will accept a bid for a project using any methodology or feedstock as long as they can be proved to produce carbon savings over conventional fuels and come from feedstocks that are environmentally sustainable.