The Iowa Renewable Fuels Association (IRFA) has launched an E85 Wholesale Price Listing Service. The IRFA lists E85 prices from wholesale distributors with the intent of increasing transparency in the marketplace, allowing retailers to review supply options in one location.
"The goal of our E85 wholesale price listing program is to assist retailers in providing their consumers with the lowest-cost E85 available," said IRFA Executive Director Monte Shaw. "This is good for the Renewable Fuels Standard (RFS), good for consumers, and great for Iowa. Many of these suppliers pass the RIN savings to the consumer, which is making for some very attractive E85 prices. In fact, several E85 suppliers this week have E85 a dollar or more below the average price for regular unleaded gasoline."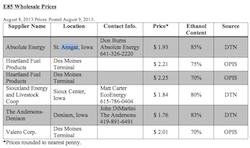 The IRFA will publish Thursday's E85 price every Friday. E85 suppliers wishing to have their price posted should contact T.J. Page with the IRFA at 515-252-6249 or tpage@IowaRFA.org. To be eligible for listing, the supplier's price must: be publicly posted elsewhere; be available to any retailer or supplier; not be restricted by gallonage caps.  E85 is defined in state law as a blend of between 70 and 85 percent ethanol with gasoline.